PRINCIPAL DESK
It is a great pleasure to welcome you to Vivekananda Mission High School. We aim for all students to be happy and to be challenged in a supportive and safe environment.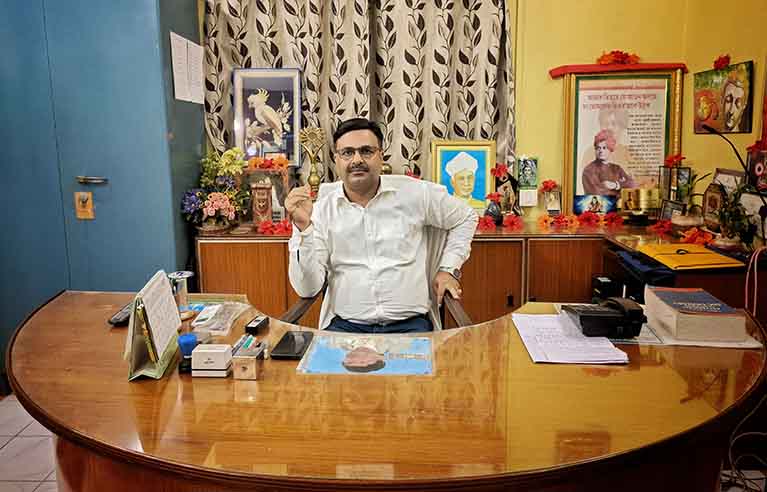 Keeping in the mind the people of the rural and financial handicapped area surrounding Panskura, Purba Medinipur, West Bengal had a long cherished desire to have CBSE school to get their children educated in an English Medium, all curriculum based institution which can not only open to their wards different avenues of employment, but also help them to have their outlook broad, liberal and enlightened. This desire was fulfilled by a farsighted, benevolent, tenacious educationist, social worker and having with other professions Dr. Saumen Kumar Mapatra, Ph.D(Kol), FRES(U.K.),Bharat Jyoti and Bratratan along with our Manager, Dr. Nathuni Singh, former Principal, Kendriya Vidyalaya, an eminent educationist with a strong Managing Committee having principals of Kendriya Vidyalaya and other educationists and social workers brought this institution into existence in 1999. The school is named after a great monk-Swami Vivekananda whose ideal concept of education is man making and character building.
Welcome To
Vivekananda Mission High School
The Imperative character of education for individual growth and a social development is now accepted by every one. Investment in the education of its youth is considered most vital by all modern nations. Such, an investment in the education understandably acquires top priority in developing country. Education, in one sense or another appears to be a human race, though in course of time its meaning and objective have inevitably undergone certain changes. Such a view of education will include all of life experiences. In the technical sense however, education refers to the process by which society through its different institution deliberately transmits cultural heritage to its young, its accumulated values, knowledge and skill from one generation to another.
Meet Our Committee
A committee is a group of people who individually can do nothing, but who, as a group, can meet and decide that nothing can be done.
Notice Board
Dont say you don't have enough time. You have exactly the same number of hours per day that were given to Thomas Jefferson and Albert Einstein.